Best VPN for Web Developers in 2023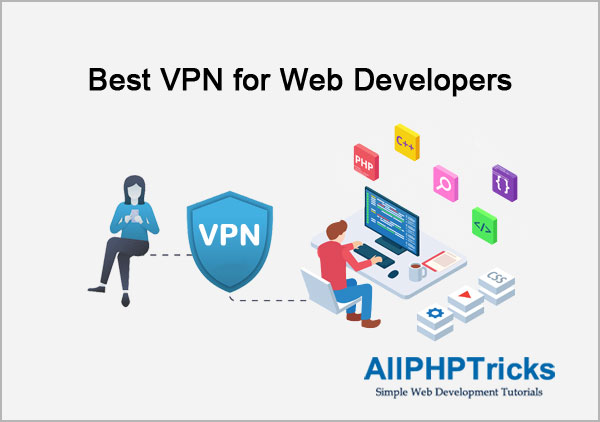 In this article, I will show you the best VPN for web developers to secure online activity.
Jump to the best VPN for Web Developers
Do you really think that you are safe when you are working on public Wi-Fi?
Or your client data or private application code is safe from hackers?
The short answer is NO, because when you are connected to the internet, you activity is visible to your Internet Service Provider (ISP) and others.
A good VPN comes with a 30-day money back guarantee like Surfshark VPN. Risk free VPN, if you are not satisfied, you can get your money back with in 30 days.
Even the websites you visit, they also save your IP address, system information and your browser cookie.
These information is used by advertisers to sell relevant product.
If you search something on the internet and then you start seeing the same thing on every ad.
This mean your activity is visible to many entities, like ISP, websites you visit, hackers and others.
If you are a web application developer and want to stay secure online from hackers then you should consider the best VPN for your online data security and privacy.
When you are using a public Wi-Fi without a VPN, you are on the risk of man-in-the-middle and packet sniffing attacks.
What is a VPN?
Virtual Private Networks (VPN) is an online privacy tools that removes all the vulnerabilities that can impact your online privacy.
A VPN connects you to a remote server which is present in any other country. You can connect to USA remote server, UK remote server, or any other country server.
When you are connected to the remote server, you are assigned the IP address of that remote location.
VPN also encrypts the data you send and receive, this means your browsing activity is also encrypted.
When you are using a VPN and connected to the remote server, your activity is not visible to your ISP, websites you visit, public Wi-Fi and others.
Only your VPN provider can see all your activity, so choose a VPN wisely.
There are hundreds of VPN service providers available on the internet.
You should choose a reliable and best VPN which does not keeps a logs of your activity.
Why Should Web Developer Use a VPN?
Although, everyone can get a benefit from a VPN as online privacy is the concern of every internet user.
However, VPN is essential for web developers and application developers because they spend their most of the time on the internet.
And they have a crucial information and code of applications which should be secure, if any hacker could have that code then it will be easy for them to penetrate into that application.
These are very sensitive data and you should take care of it seriously, otherwise you will end up loosing more than you can expect.
Here are some benefits of using a VPN for web developer:
It is an ethical and correct way to protect your data, your developed application code, mobile applications and all the related resources of your client or company.
It ensures that your and your client data is secured from hackers, if your client data is compromised then your client might face a lose of more financially.
VPN helps you to connect to remote server so you can ensure that your application is working efficiently internationally without any hassle.
You can monitor and research about your competitors without knowing them that you were visiting their website.
You can freely work on public Wi-fi without any data security issue.
Hackers can not access your data, it prevents hackers from stealing your data.
Some VPN comes with additional services which enhances the user browsing experience by eliminating the annoying ads, cookies and others.
Access useful educational content which is not available in your country due to geo-block.
These are the some featured benefits of using a VPN service by a web application developer. There could be more benefits based on users' need.
How to Choose the Best VPN for Web Developers?
There are various key factors that you should consider before choosing the best VPN for developer.
Some of the important factors that you should consider are listed below:
Strict no-logs policy
Good connection speed
Large number of servers
Secure and fast security protocols
Service limitations
24/7 available support
Unblocking major websites and services
Affordable price
Strict no-logs policy
We are using a VPN for the privacy concern, what is the benefit of using VPN if your VPN provider also keeps the logs of your activity.
So the most important thing you should consider when choosing the VPN is the strict no-logs policy VPN.
However, some VPN claims that they don't keep log but this is not the case. I will share the best and reliable VPN which does not keep logs of your online activity.
Good connection speed
Internet speed can interrupt your work or the speed of your work, a good VPN should not reduce your internet speed.
A good VPN will give you good connection speed and you can do your work as faster as possible.
Large number of servers
Always consider a VPN which have large number of VPN servers around the world. This will help you to test your application from multiple locations.
Having multiple servers means you will have several options to connect with VPN from your desired country.
Secure and fast security protocols
Security protocols are also plays very important role when choosing the best VPN. Make sure that your VPN offers strong level of encryption like AES 256 GCM, IKEv2/IPsec and OpenVPN UDP / TCP.
We are using VPN for the security reasons, therefore security protocols are important factor in the selection of VPN.
Service limitations
Every VPN service provider have their limitations, before choosing a VPN. Make sure that it is fulfilling your mostly needs.
For example: If you want to use the VPN connection on multiple devices simultaneously then there is a limitations on almost every VPN except the Surfshark VPN.
24/7 available support
There are various occasions when you need a technical support from your VPN provider, so make sure that your VPN providers offers 24/7 support to their subscribers.
Unblocking major websites and services
Some VPN providers claims that they can unblock the almost every website. However, the realty is different.
Not all VPN providers are capable to unblock major websites, there includes several important educational websites when a web developer can learn to improve programming skills.
A good VPN can unblock streaming services and websites, you should consider StreamVPNs because usually streaming VPNs are a good VPNs compare to others.
Affordable price
The subscription price of the VPN service is also important, we try to get the best VPN as cheap as possible and offers the similar features which are offered by costly VPN providers.
You should compare the price of a VPN service providers with the features they are offering and how good their service are.
Best VPN for Web Developers and Internet Users
For your ease, I have done a detailed research on different VPN service providers and I will share the best and reliable VPN service provider with you.
Surfshark VPN #1 VPN for Web Developer
Surfshark VPN is the best VPN for web developers and internet users, it was launched back in 2018 and has gain popularity due to its amazing capabilities of unblocking websites and data privacy.
It currently comes in the list of of the world's top 3 best VPN service providers. It has gain popularity in a very short time span and that is all because of its amazing service and features.
Following are the key features that are offered by the Surfshark VPN which is incomparable to any other VPN provider:
It is using the industry leading security protocols, these includes WireGuard, IKEv2/IPsec, and OpenVPN UDP / TCP.
It uses the AES 256 GCM strong encryption to protect the data.
Uses the RAM-only servers which ensures that strict no-logs policy is implemented.
Two-factor authentication is available only in the limited VPN provider.
One VPN subscription is for all family member, connect to unlimited devices simultaneously.
Also offers the private DNS & leak protection.
It costs $2.30 USD per month, when choosing the 24 months subscription plan.
24 months subscription plan also offers +2 months for free.
Available to provide 24/7 support to its subscribers.
Having more than 3200+ servers in 100 countries.
Its servers are the fastest servers, offers the high speed connection.
It is capable to unblock all major websites, including steaming services.
Risk free VPN, it offers 30-day money-back guarantee. Just try it out now.
Get Surfshark VPN
30-day money-back guarantee
Conclusion
If you do not want to waste your money on testing multiple VPN services, then Surfshark VPN is the only best VPN for web developers and internet users.
I hope this article will help you to secure your data using a reliable and premium VPN service. VPN is very essentials now a days for every web developers, and should consider using it.
Don't forget to share your VPN experience in the comment section below.
Facebook Official Page: All PHP Tricks
Twitter Official Page: All PHP Tricks