Top 5 of the Best Digital Professions in Canada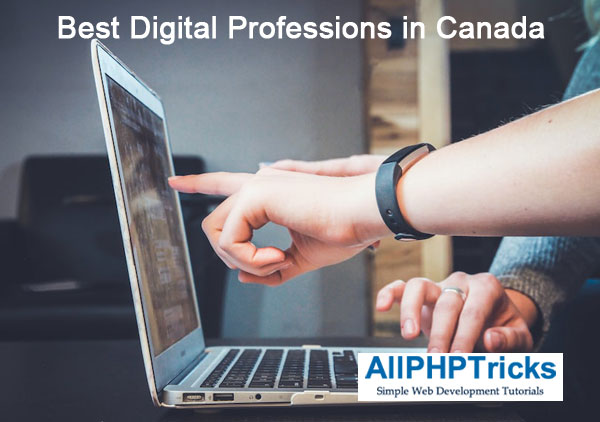 The digital industry is booming, and it will only get bigger. The number of people
working in this field has increased by more than 50% since 2010, with a projected
growth rate of 20% over the next five years. According to the Canadian Bureau for
International Trade Statistics (CBIS), around 1.2 million Canadians are currently
employed in the digital sector.
The new technological era has brought constant changes in the workplace and
opened a significant demand for opportunities for new professions, which have
positioned themselves and generated development in the IT industry. In this article,
we want to share with you the Top 5 of the best digital professions in Canada.
Are you wondering why Canada? Well, this country is one of the most developed
countries, whose job market is broad and always open to foreigners. So if you're
planning to travel, Canada is an excellent option to study or practice one of these
professions.
So keep reading; you will find the top 5 in the IT industry!
1: Web Designer
Web designers occupy the first position on our list. This professional is responsible
for designing websites that are attractive and easy to use. They must be able to
create a website with a unique design that can attract visitors and make them stay
longer.
This job requires creativity, knowledge of programming languages such as HTML5,
CSS3, and JavaScript, and good communication skills.
If you want to become a web designer, you should start studying. It would help if you
also took advantage of the online courses available on our platform.
2: Graphic Designer
Graphic designers are responsible for creating visual elements that help companies
communicate their message. For example, they usually create logos, posters, flyers,
brochures, etc.
Graphic designers need to know how to draw well, but they also need to be creative
and innovative. It is essential to understand that graphic design is not just about
drawing pictures but also understanding what people want from a product or service.
To become a graphic designer, you should study art, design, or any other related
course. If you don't have experience yet, you could try to do some freelance jobs to
gain more experience.
3: Software Developer
Software developers are professionals who develop software applications for
computers. Their primary responsibility is to write code that allows computers to
perform specific tasks.
In addition to being skilled programmers, these professionals must also have strong
analytical abilities. A developer needs to be able to solve problems quickly and
efficiently.
To become a software developer, you should choose a degree program specializing
in computer science. After completing the program, you will be ready to enter the
field.
4: Mobile App Developer
Mobile app developers are responsible for creating mobile apps that run on
smartphones and tablets. These programs allow users to access information and
services through their devices.
A mobile app developer must be familiar with operating systems like Android, iOS,
Windows Phone, Blackberry, etc.
You can learn all the necessary skills while taking classes at school or online. Once
you finish your studies, you will be ready for a career in this field.
5: SEO Specialist
Search engine optimization specialists are responsible for ensuring that websites
appear high up in search results when someone searches for something using a
search engine.
SEO specialists must be knowledgeable about keywords, meta tags, content
management systems, and other technical aspects of search engines.
Enrolling in an online training program is the best way to become an SEO specialist.
We hope that we were able to provide you with helpful information about digital
professions in Canada. We encourage you to visit our site regularly to learn about
careers in this area and online courses on our platform.
Do you have plans to travel to Canada?
If you have it in mind, you must know that most nationalities need to have the [ETA
Visa for Canada]. So don't worry, you can click here and find all the information you
need. This will take only a few minutes of your valuable time.
Ready to travel to Canada? You are just a few steps closer to making this dream a
reality.
Facebook Official Page: All PHP Tricks
Twitter Official Page: All PHP Tricks