Web Design Karachi – Web Development Pakistan
I provide web design and web development service in Karachi, Pakistan. If you are looking for the web designer and web developer to design and build your website, then you are on the right place, i will design and develop website according to your imagination and needs.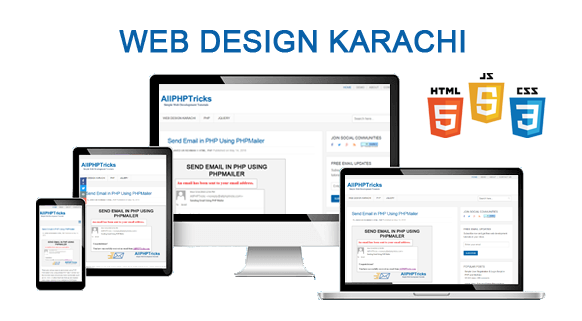 All you need to do is to simply leave your message and i will get back to you. I also provide all kind of help/support that you may need, you might not aware how to start your website? How to get your domain registered? What you actually want in your website? I am here and i will help you from the scratch.
I provide web design and web development service not only in Karachi, Pakistan but in other countries including UAE, Dubai, Jeddah, Abu Dhabi, Saudi Arabia, Qatar, Kuwait, United Kingdom (UK), United States of America (USA), Australia, Bangladesh, and many other countries and cities. So it does not matter where you are from, you can always contact me and i will get back to you as soon as possible.
If you want to start your blog and want to share helpful stuff with the world, but you never did blogging before, then you can also contact me, i will build your customize blog theme. It is not mandatory to learn web development to start blogging, many blogger only write about their interest so they do not need to learn it, all you need is simply a customize blog theme, and it is also recommended that you must have your own blog theme if you are serious about blogging, using free blog theme is not good idea, you can search in detail about it on Google.
Why Should You Hire Me?
It is a good question that why should you hire me when there are lots of web developers available in the market, many of them can offer their service cheaper than me.
Well it is true that you can find many web developer providing their service at very low cost, but obviously you can think by yourself that if someone is providing their service at very low cost this mean that something is going to be compromised which you might not aware of, it is possible that they just wrap up your website/theme without fully interest, it means that it is possible that they are using some free themes and with little customizing, they are calling them the new theme or may be they just develop your website without taking care of Search Engine Optimization which are highly effected with the website code.
I just do not have web design and web development experience but i also have on hand Search Engine Optimization (SEO) experience, so when i write code i know what are the things to be consider at the time of web development which will directly impact your website SEO.  And if you found my website via Google search then i think you can trust me 🙂
The website i build are very light weighted and Google also loves light weight websites and blog. The website which are freely available on the internet are mostly heavy this is why it is not easy to get good ranking at search engines with free website or theme.
If you are interested to have your website project with me then you can leave your message here.