Demo Convert Numbers into Words
Amount 1:
Amount 2:
Total Amount:
Total Amount in Words (Rupees):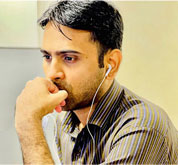 I am Javed Ur Rehman, a Lead Software Engineer.
I build ecommerce websites, web applications, web portals, and online stores to help businesses to grow.
If you are looking for the same. Contact me
92128

Programmers Subscribed

Subscribe now and get free web development tutorials in your inbox.
TESTIMONIALS
"It was a pleasure working with Javed who created an amazing online shopping cart for us in a record time. He is very cooperative, polite, knowledgeable, and finds solutions to deliver everything that we need."
"He under promises and over delivers. He is very creative and creates very elegant, efficient and functional solutions."
"He is going to be our go-to person for any future work that we have and we would highly highly recommend him in his area of expertise."
Suresh Parwani From Panama
"Just wow! Happy customer here. Thumbs up!"
Albert Diaz From Manila, Philippines